Paladin Roleplaying
Dice Of The Month Club
Regular price
£12.95
£0.00
Unit price
per
Tax included.
It's here! Our brand new Dice Of The Month Club (Limited Opening)!
Get cool dice, plus exclusive bonuses and extras every month! Here's what's included:
Get your hands on our brand new Antique Gold Metal RPG Dice Set before they go on general release!
In the first month you'll get the gold storage tin and the D20, then you get another gold dice every month until your collection is complete! This set will not be available to anyone else until subscribers have received the full set
Plus you'll get a full Acrylic Dice Set every month, selected at random from our collection
Plus a Free Gift every month - this could be extra dice, or something completely different. We'll keep mixing it up with funky bits and pieces that have in our warehouse or that we source from our friends in roleplaying-land. Many of these will be exclusives, not otherwise for sale!
You save over 20% just on the dice, with the free gifts on top!
Monthly subscription
Cancel at any time
Choose to receive just RPG/Polyhedral sets, or to also get D6 and/or D10 sets - choose your option in the dropdown box above and we'll mix and match to make sure you get the kind of dice you need
To keep admin to a minimum, we will only be opening the dice subscription to new members twice per year. You have until the end of Febuary, and then we'll be closing the doors for the rest of this year, and the next opportunity to join won't be until Autumn 2021.
---
Customer Reviews
Love the Dice
I love the dice I have received, they are very pleasing to hold and to look at for me. I wish I was able to complete the metal die set quicker but this is what I subscribed to. It does take a long time from when it is sent till I receive it but I do live a long way away. Needless to say I am always excited to receive mail and it being my new set of dice to use for the next month.
04/20/2021
Olivia P.

United Kingdom
Good stuff
My dice have been rolling really well, much to my players dismay. Really enjoy getting 2 d20's with a set, its nice to have a match when rolling with advantage/disadvantage. I also really liked my lucky pot d6 I got.
04/13/2021
Nathan H.

United Kingdom
Nice dice; pretty pin; swag bags
I'm two months into the Dice of the Month subscription and so far I've been very satisfied with what I've received. First up there's the Antique Gold metal set. I'm a fan of metal dice so this was a big factor in my subscription, I like the extra weight (though make sure you use a dice tray or you'll dent your table!). I'm not the biggest fan of the dice tin's colour, a tad too green I think so it doesn't really evoke "gold" to me. The dice themselves are the important part though, and they've turned out nicely. There's also the extras; on the first month I got a lovely little D20 pin which has lived on my hoodie since. On te second month I got a nice yellow dice bag; I wasn't quite sure what to use it for at first but then I realised it's just about big enough to hold a dice tin, so now that's where my gold dice live. And onto the meat of the subscription; the monthly dice! My subscription includes polyhedral and d6 sets, and so far I've received one set of each. Each set has come in a lovely Paladin-branded mesh bag with ribbon drawstring. While I do quite like these bags, but they seem a little flimsy so I'm not sure how well they'd hold up if you handle them roughly. The dice themselves are excellent; the first set was a nice polyhedral marbled black and dark blue set, the second set was an amazing marbled glittery purple and purple d6 set. I'm actually kind of sad I don't get to use d6 sets more often now, I really like how those turned out. Overall, pretty good.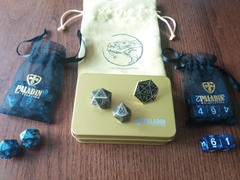 04/09/2021
Nathan Z.

United States
Quality as usual but real fancy.
Love the container and its a good tone waiting for the next to show up. Extra goodies are always welcomed and they are beautiful. Only issue is with the foam. It holds the dice so well sometimes its difficult to get them out of their home. Great stuff from paladin as always. Can't wait to finish the set off.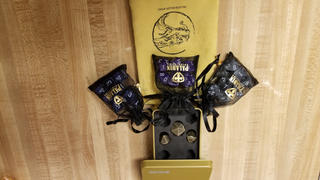 04/09/2021
Nick W.

United Kingdom
Paladin always!
Paladin Dice all the way!