Paladin Roleplaying
RPG Dice Rolling Tray - Small Portable Faux Leather Tray for DND
Regular price
£7.47
Sale price
£7.95
Unit price
per
COLLAPSIBLE - The corners of this folding dice tray unclip, so it folds completely flat for storage, and makes it easy to transport when you travel to your gaming night
PERFECT SIZE - A nice small tray that won't take up too much table room, but big enough for your personal dice rolls. Measures 14cm (5.5") square, with 3cm (1.2") high sides. Size when flat = 20cm (7.9") square
DELUXE WORKMANSHIP - Beautiful faux leather, embossed with the Paladin Roleplaying logo. Keeps your dice rolls quiet and protects the surface of the table. Striking appearance, with red on the upper, and black underneath.
IDEAL RPG ACCESSORY - Perfect for Dungeons and Dragons (DnD 5e), Pathfinder, and other tabletop games and board games
GUARANTEED QUALITY - Comes with 1 year no quibbles manufacturer's guarantee
---
Customer Reviews
09/29/2020
Jaece P.
United States
Simple and Subtle Luxury
The Faux Leather looks and smells great. The red is vibrant, beautiful and contrasts perfectly with my black metal dice I purchased from this wonderful company. I consider the corner clips the underrated part of this piece as they hold steady, and have a satisfying snap that announces you are ready for business. I travel 45 mins away from the city of Chicago to play, so the real MVP of the product is the sturdiness of the base. This slides into my backpack and handles my driving like a champion. No unwanted folds or creases from the faux leather after a decent number of tests and regular trials of game sessions. Rolling the metal dice with this tray can bring a flavorful bounce to the game, which I love , as it helps the dramatic rolls a lot. The heavy metal dice can leave little divots but they go away and do not interfere with the roles during game with other dice. If PRP decides to do a real leather tray, I am confident it will be amazing. Can't wait for more trays by them either way.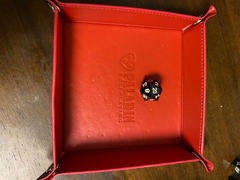 Beautiful tray
Beautiful tray that protects the table from my metal dice and is also a perfect surface for dice rolls.
Great value, good quality.
This is a fantastic starter dice tray. It doesn't take up too much room on the table. It looks great, the red is really vibrant, and it looks and feels of great quality. It isn't greatly weighted, but I have rolled a solid metal dice in this tray and it rolled fine.