Paladin Roleplaying
Paladin Roleplaying Silver Metal Dice Set, In Presentation Case
Regular price
£29.95
£0.00
Unit price
per
Tax included.
SOLID METAL roleplaying dice, guaranteed to impress!
Full set of polyhedral dice: D4, D6, D8, D10 (marked with single units), D10 (percentile - marked in tens), D12, D20
Easy to read numbering, with underscoring on 6 and 9, and high precision manufacture for accurate rolling
For Dungeons and Dragons (DnD) and all role playing games and wargames
Comes with 1 year manufacturer's warranty
Just imagine the look on your friend's faces when you turn up with this incredible, solid metal rpg dice set, in it's own specially crafted presentation tin.

Normal plastic dice will never seem the same again...

Paladin Roleplaying are proud to present the pinnacle of roleplaying dice - a full set of weighty, solid metal dice with a beautiful high quality silver finish.

The dice are made of a zinc alloy for maximum heft and weight, with a tough nickel coating to make sure that they don't chip or scratch.

The tin has custom made foam padding with shaped holes for each die - A great display case, and also keeps the dice safe and secure.

Whether you're looking for a special new set of dice for yourself, or the perfect gift for a roleplaying fan, Paladin's Metal Dice Set is exactly what you need...
---
Customer Reviews
11/20/2020
Jack .
Sweden
Premium Quality Metal Dice Set!
Absolutely blew my expectations. Perfect shapes and cuts with a nice quality weight. Rolls perfectly. Easy to read. Just perfect! Recommend for anyone looking for dice!
10/07/2020
Kieran B.
Australia
Perfect
These dice are fantastic, for a quarter of the price you get a full set of premium quality metal dice. They roll well and due to their sleek design you'll never have trouble reading the numbers. The dice bag included was a pleasant surprise because I didn't actually have one. All in all I'd recommend these dice to all my friends and anyone reading this.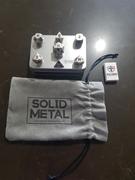 08/19/2020
Tom M.
United Kingdom
Wife loves them
Good weight, need a dive tray on a glass table but not an issue. Really good.
07/08/2020
Laura R.
Spain
05/06/2020
Nicolas B.
Austria
First Roll - Nat 20; what more is there to say
I like everything about these dice! They have the right size the right weight, and are generally just pristine. They arrived after 9 days, while their estimate was between 2 and 3 weeks (Central Europe) so positively surprised there as well! To top it off, I even got a handwritten "thank you" which made my day as well. Will definitely support this business in the future!